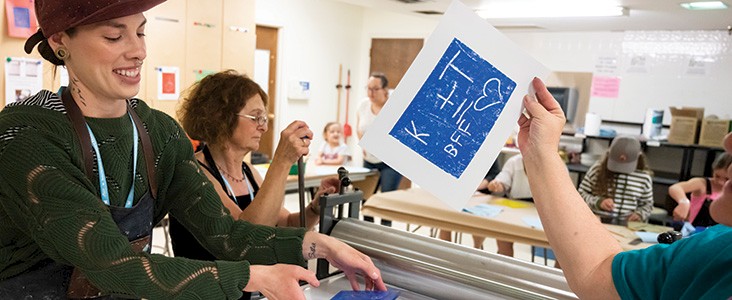 Print Making
When
Runs from Thursday June 2 2022 to Sunday June 5 2022
Approximate running time: 1 hour
Venue
St Albert Place Studio ›
St. Albert Place
5 St. Anne Street
St. Albert AB T8N 3Z9
Event Notes
PLEASE FOLLOW ALL PROVINCIAL HEALTH MEASURES IN PLACE AT TIME OF EVENT OR ACTIVITY.
INTERNATIONAL CHILDREN'S FESTIVAL OF THE ARTSWORKSHOPThursday, June 2 * Friday, June 3 9:30 am, 10:45 am, 12:15 pm, 1:45 PM
Saturday, June 4* Sunday, June 5 9:30 am, 10:45 am, 12:15 pm, 1:45 PM
ALL AGES
DURATION: 60 min
Tickets starting at $6.00; prices do not include GST, handling charges, and fees.
Printmaking - A Great Impression
We see examples of printmaking everywhere. It's used to make signs, books, stickers, clothing, packaging and even money! It's all around us and did you know that printmaking is a process that's been used by artists for thousands of years? It's basically been around since the invention of paper! Printmaking primarily involves transferring an image from a block or plate to a piece of paper, but often combines a variety of art-making techniques along the way. In this workshop, children will work with printmaking artists to design, ink and print an image to create their own original monotype print. Come explore this process with us and play with ways to create an image using techniques you may have never considered.
Photos were taken pre-pandemic