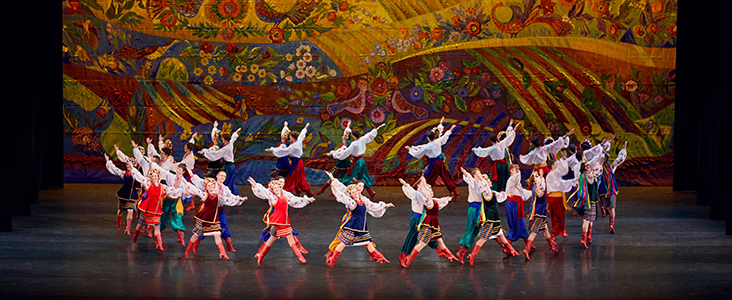 Whirlwind Moves
When
Runs from Thursday June 2 2022 to Sunday June 5 2022
Approximate running time: 0 hours and 45 minutes
Venue
Cornerstone Hall ›
6 Tache Street
St Albert AB T8N 2S4
Event Notes
PLEASE FOLLOW ALL PROVINCIAL HEALTH MEASURES IN PLACE AT TIME OF EVENT OR ACTIVITY.
INTERNATIONAL CHILDREN'S FESTIVAL OF THE ARTSWorkshopThursday, June 2 * Friday, June 3 9:30 AM, 10:45 AM, 12:15 PM, 1:30 PM
Saturday, June 4* 10:00 AM, 11:15 AM, 12:45 PM, 2:00 PM
Sunday, June 5 * 11:15 AM, 12:45 PM, 2:00 PM
ALL AGES
DURATION: 45 min
CAPACITY: 45
Tickets starting at $6.00; prices do not include GST, handling charges, and fees.
Whirlwind Moves - Ukrainian Dance with SHUMKA
At this "Whirlwind Moves" workshop, meet two Shumka dancers and learn some basics of Ukrainian dance including an introduction to style, technique, combinations of steps and a trick or two! Peruse Ukrainian dance costumes from various regions of Ukraine and those adapted for recent Shumka productions!
The Ukrainian Shumka Dancers are celebrating their 60th Anniversary with their tenth national tour throughout 2022. Canada's only professional Ukrainian dance company, Shumka has cultural roots in Ukraine and has been developing the art form in Edmonton for decades. Shumka means "whirlwind," which is an apt description of their lively and energetic style on stage!
Photos/videos were taken pre-pandemic
Shumka Website
Shumka on Facebook