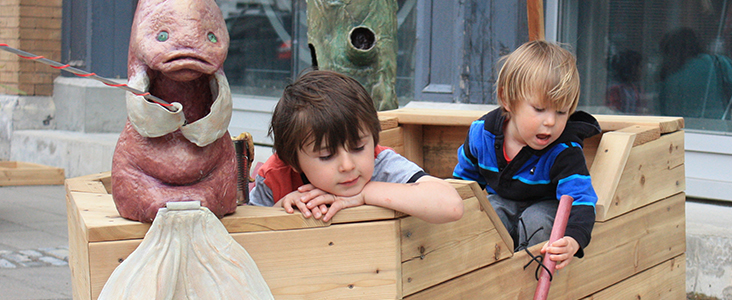 Le Jardin Des Petites Âmes
When
Runs from Thursday June 2 2022 to Sunday June 5 2022
Approximate running time: 5 hours and 30 minutes
Venue
Global Heritage River Trail ›
St. Albert Place
5 St. Anne Street
St. Albert AB T8N 3Z9
Event Notes
PLEASE FOLLOW ALL PROVINCIAL HEALTH MEASURES IN PLACE AT TIME OF EVENT OR ACTIVITY.
INTERNATIONAL CHILDREN'S FESTIVAL OF THE ARTSWORKSHOPThursday, June 2 * Friday, June 3 9:30 AM to 2:30 PM
Saturday, June 4* Sunday, June 5 9:30 AM to 3:00 PM
AGES: 0 to 7
DURATION: Drop In
Tickets starting at $6.00; prices do not include GST, handling charges, and fees.
Le Jardin des petites Âmes/Garden for Little Ones by Théâtre des Petites Âmes
Le Jardin des Petites Âmes is a playful and interactive sensory garden built for the wee ones and toddlers. With their families they can touch everything, move and bring the puppetry and musical elements to life. The garden is there to explore with your little ones at your own pace.
Un jardin ludique et sensoriel en ville, c'est ce que propose le Théâtre des Petites Âmes avec son installation interactive « Le Jardin des Petite Âmes ». À hauteur d'enfant, le jardin propose différentes stations que les petits pourront manipuler, faire vivre et résonner. Le jardin est à explorer à votre rythme avec tous vos petits de 12 mois à 7 ans!
Photos were taken pre-pandemic
Théâtre des Petites Âmes Website
THeatre des Petites Ames on Facebook