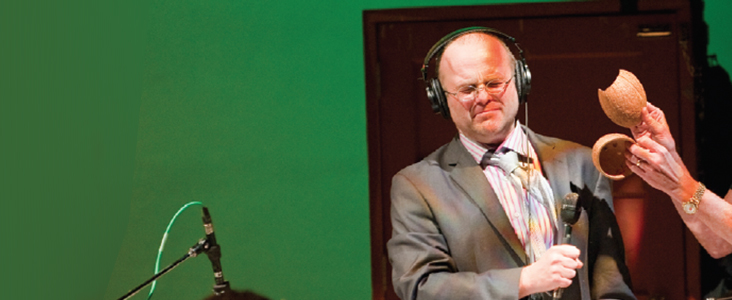 Sound Lab
When
Runs from Thursday June 2 2022 to Sunday June 5 2022
Approximate running time: 0 hours and 45 minutes
Venue
Global Heritage River Trail ›
St. Albert Place
5 St. Anne Street
St. Albert AB T8N 3Z9
Event Notes
PLEASE FOLLOW ALL PROVINCIAL HEALTH MEASURES IN PLACE AT TIME OF EVENT OR ACTIVITY.
INTERNATIONAL CHILDREN'S FESTIVAL OF THE ARTSWORKSHOPThursday, June 2 * Friday, June 3 9:30 AM, 10:45 AM, 12:15 PM, 1;30 PM
Saturday, June 4* Sunday, June 5 9:45 AM, 11:00 AM, 12:30 PM, 2:00 PM
ALL AGES
DURATION: 45 min
CAPACITY: 45
Tickets starting at $6.00; prices do not include GST, handling charges, and fees.
Sound Lab
The click of feet walking…the clink of money dropping… the crunch of people eating. While you may not actively notice how many sounds you hear every day, without them your environment would not be as colourful. Join 'Doctor' Dave Clarke, mad genius of sound, to learn how sound effects and music make movies and games come alive. Kids explore the secrets of sound creation and use it to tell a story of their very own which can be saved and enjoyed at home.
Photos were taken pre-pandemic