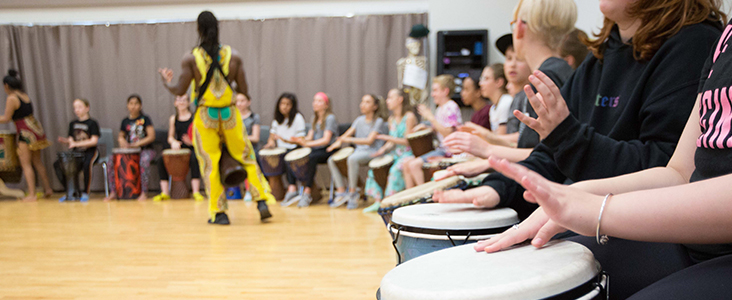 Drum Speak Workshop
When
Runs from Thursday June 2 2022 to Sunday June 5 2022
Approximate running time: 0 hours and 45 minutes
Venue
Global Heritage River Trail ›
St. Albert Place
5 St. Anne Street
St. Albert AB T8N 3Z9
Event Notes
PLEASE FOLLOW ALL PROVINCIAL HEALTH MEASURES IN PLACE AT TIME OF EVENT OR ACTIVITY.
INTERNATIONAL CHILDREN'S FESTIVAL OF THE ARTSWORKSHOPThursday, June 2 * Friday, June 3 9:45 AM, 11:00 AM, 12:45 PM, 2:00 PM
Saturday, June 4* Sunday, June 5 9:45 AM, 11:00 AM, 12:45 PM, 2:00 PM
AGES: Grade 3 to 6
DURATION: 45 min
CAPACITY: 60
Tickets starting at $6.00; prices do not include GST, handling charges, and fees.
Drum Speak by Sangea Academy
Drum Speak is a method of teaching music without speaking - a very fun way to get any group working together. The objective of the workshop is to get the entire class to create one voice with their drums while learning the history of West African rhythms. By the end of this workshop, students will learn traditional songs, rhythms and history.
Photos/videos were taken pre-pandemic
Sangea Academy Website
Sangea on Facebook