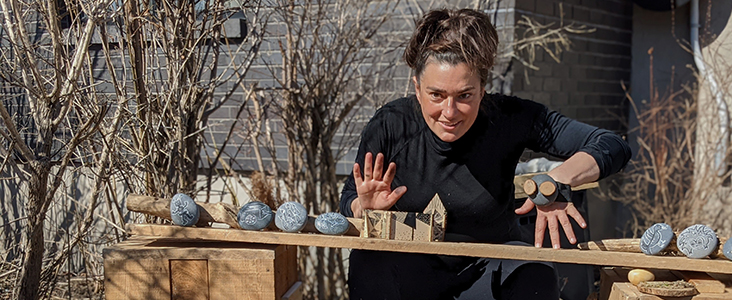 Fire. Stone. Stories
When
Runs from Thursday June 2 2022 to Sunday June 5 2022
Approximate running time: 0 hours and 40 minutes
Venue
Global Heritage River Trail ›
St. Albert Place
5 St. Anne Street
St. Albert AB T8N 3Z9
Event Notes
PLEASE FOLLOW ALL PROVINCIAL HEALTH MEASURES IN PLACE AT TIME OF EVENT OR ACTIVITY.
INTERNATIONAL CHILDREN'S FESTIVAL OF THE ARTSINTERACTIVE PERFORMANCEThursday, June 2 and Friday, June 3 9:30 AM, *10:45 AM, 12:00 PM, 1:15 PM, 2:30 PM
Saturday, June 4 and Sunday, June 5 9:30 AM,10:45 AM, *12:00 PM, 1:15 PM, 2:30 PM
*En français/French performance Thursday, June 2 at 1:15 PM, Friday, June 3 at 9:30 AM and Saturday, June 4 at 12:00 PM
AGES K - 3
DURATION: 40 min
Tickets starting at $6.00; prices do not include GST, handling charges, and fees.
Fire. Stones. Stories. (Tire-toi une Bûche!) by Théâtre des Petites Âmes
Fire. Stones. Stories. Three things we love very much. Sitting around the fire we are together. Here and now. There is nature. There are people. And stories. Always stories. Around the fire, you will be sitting comfortably in complete safety and you will help us. With the stones you choose, we will discover images, objects, characters… and then… once upon a time… Every gathering will be unique… each story will only exist with you, the teller… and the fire. There will be laughter, songs and love. Join us… Fire… stones and stories.
Le feu. La nature. Des histoires. Trois choses que j'aime beaucoup beaucoup beaucoup. Moi, Isabelle, avec le Théâtre des Petites Âmes, j'ai invité des amies conteuses à se joindre à moi pour inventer des histoires… avec toi. Autour du feu, toi bien installé en toute sécurité, tu vas nous aider. Avec les pierres que tu vas choisir, on va découvrir des images, des objets, des personnages…
et là… il était une fois.
Chaque rencontre sera unique… chaque histoire n'existera qu'avec toi… et la conteuse. Il y aura des rires partagés, des chansons, de l'amour… Allez.. viens… tire-toi une bûche!
Photos/videos were taken pre-pandemic
Théâtre des Petites Âmes Website
Theatre des Petites Ames on Facebook
Fire.Stones.Stories from theatredespetitesames on Vimeo.