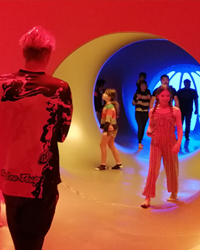 DAEDALUM LUMINARIUM
When
Runs from Thursday June 1 2023 to Sunday June 4 2023
Approximate running time: 0 hours and 30 minutes
Venue
Lions Park ›
21 Sir Winston Churchill Ave
St Albert AB T8N 3A3
Event Notes
June 1 - 4, 2023
All Ages
Tickets starting at $10; prices do not include GST, handling charges, and fees.
AN IMMERSIVE SCULPTURE OF LIGHT, COLOUR AND AIR
Enter a world of wonder with Architects of Air! Daedalum Luminarium is a monumental, immersive and inflatable walk-in structure that provides a spectacular sanctuary of light, colour, and sound. Through labyrinthine tunnels and cavernous domes, visitors move through a sculpture of saturated and subtle hues, where they quickly lose themselves in sensory bliss. Inspired by natural forms, geometric solids, as well as Islamic and Gothic architecture, designer and company founder Alan Parkinson creates an awe-inspiring arts experience for all ages and abilities. For more than 25 years, over three-million curious visitors have immersed themselves in the luminous world of Architects of Air. A paradox that such a stimulating environment can also be so calming and comforting, many kids liken the experience to walking through a stained-glass window or futuristic space station!
Children under the age of 16 must be accompanied by an adult (A minimum of 1 adult for up to 5 children). Evening and weekend tickets for Daedalum Luminarium are same day sales only and will be released at 9:00 a.m. each morning during the Festival online or available for purchase on site. Last entrance is half an hour before the Luminarium closes for the evening. Please note admission is on a first-come, first-served basis and your ticket does not guarantee you entry at your preferred time.
SENSORY CONSIDERATIONS:
Natural lighting, white noise and enclosed space.
Artist URL:
www.architects-of-air.com/
Facebook:
architectsofairAoA
Instagram:
architectsofair