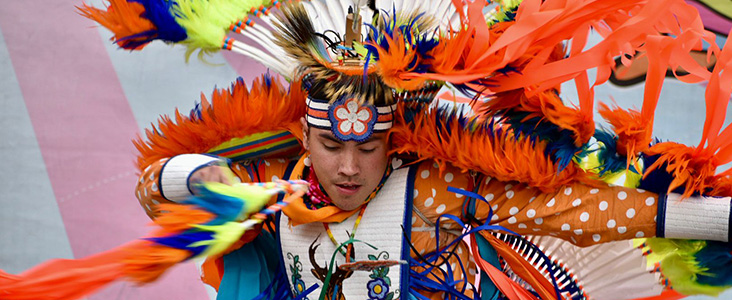 OTÂCIMOW ᐅᑖᒋᒧᐤ :STORYTELLER
When
Runs from Thursday June 1 2023 to Friday June 2 2023
Approximate running time: 0 hours and 45 minutes
Venue
École Father Jan ›
15 Mission Ave
St Albert AB T8N 1H6
Event Notes
DANCE/MUSIC
June 1 - 4, 2023
All Ages • 45 minutes
Tickets starting at $16; prices do not include GST, handling charges, and fees.
Otâcimow (Oh-tea-see-maw), which means "storyteller" in the Plains Cree language, will mesmerize audiences with colourful regalia, dramatic dancing and powerful music. As with the Indigenous Peoples in Canada, stories of the land and animals come alive as we journey back in time when all things were connected to the cycles of Life and Natural Law.
CURRICULUM CONNECTIONS:
Indigenous world views, language, oral storytelling, physical education, music, dance, science/nature,cultures and traditions.
SENSORY CONSIDERATIONS:
low venue lighting, live music and audience seated surrounding the stage.
Facebook:
Watch Performance Here