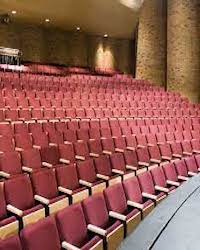 Fire and Ice with Jamie Sale and Theo Fleury
When
Occurs on Thursday December 15 2022
Approximate running time: 2 hours
Venue
The Arden Theatre ›
5 St. Anne Street
St. Albert AB T8N 3Z9
Event Notes
Thursday, December 15, 2022
7:00 P.M.

Tickets starting at $50.00; prices do not include handling charges, and fees.
GENERAL ADMISSION SEATING
Join Hockey Legend Theo Fleury and Gold Medalist Figure Skater Jamie Salé as they interview Pastor Artur Pawlowski. The evening will be hosted by President of Canadians for Truth, Joseph Bourgault. The event starts at 6:00PM with a social, followed by the live show at 7PM. Be a part of the LIVE AUDIENCE and get the opportunity after the show to meet Theo, Jamie and our special guest Artur Pawlowski for a photo and conversation.
Artur Pawlowski is a long-time promoter and defender of civil liberties and well-known advocate of Canada's poor and homeless. Over 20 years, Art Pawlowski became known as one of the chief defenders of free speech, free association, and the rights of the homeless in Calgary's public spaces. In 2020 and 2021, when the premier, public health authorities and police services began violating the protections for conducting religious services and assemblies in Section 176 of the Criminal Code of Canada, Art Pawlowski stood up and said "NO!" Art endured arrests and highly visible takedowns by the Calgary Police Services, endured time in solitary confinement, and most recently was part of a high profile legal case where he defended his right to feed the homeless during the Pandemic. Please join us to hear more about his experiences and meet someone with passion, spirit and integrity to do what is right no matter the consequences!
Tickets Include:
Social Event from 6:00PM to 6:45PM, Live Studio Show at 7:00PM, and a VIP Social Hour following the event where you will be able to meet Joseph Bourgault, Theo Fleury, Jamie Sale, and Artur Pawlowski. Small snacks and non-alcoholic drinks will be available.