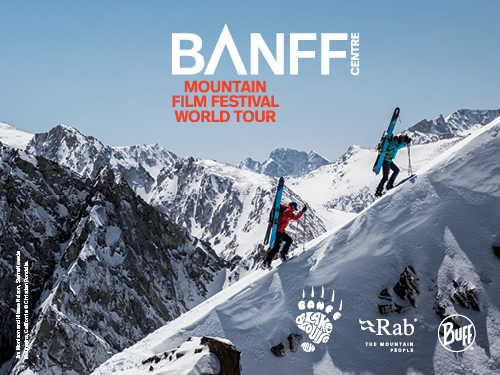 Banff Centre Mountain Film Festival World Tour
When
Occurs on Wednesday September 29 2021
Approximate running time: 3 hours
Venue
The Arden Theatre ›
5 St. Anne Street
St. Albert AB T8N 3Z9
Event Notes
PLEASE FOLLOW ALL PROVINCIAL PUBLIC HEALTH MEASURES IN PLACE AT THE TIME OF THE EVENT OR ACTIVITY.
Wednesday, September 29, 2021
7:30 P.M.
Tickets: $24 - Adults, $20 Students
Presenting Partners: Rab, Buff, and Banff & Lake Louise Tourism
Banff Centre Mountain Film and Book Festival is one of the largest and most prestigious mountain festivals in the world! Hot on the heels of the Festival that is held every fall in beautiful Banff, Alberta, the Banff Centre Mountain Film Festival World Tour hits the road. With stops planned in about 550 communities and more than 40 countries across the globe, the Banff World Tour celebrates amazing achievements in outdoor storytelling and filmmaking worldwide!
From the over 400 entries submitted into the Festival each year, award-winners and audience favorites are among the films that are carefully selected to play in theatres around the world.
Traveling to remote vistas, analyzing topical environmental issues, and bringing audiences up-close and personal with adrenaline-packed action sports the 2020/2021 World Tour is an exhilarating and provocative exploration of the mountain world.
20/21 WORLD TOUR FILM PROGRAM (CORAL) ACCOMPLICE: The Passport
2020, USA, 8 minutes Filmmaker: Jeremy Grant, Teton Gravity Research
Hannah Bergemann and Veronique Sandler travel to the high Himalayas near Ladakh, India to explore remote mountain ranges and ride unexplored lines in this segment from Teton Gravity Research's mountian bike film, ACCOMPLICE.
Mount Logan
2020, France, 13 minutes Filmmaker: Alexandre Machessau, Arthur Ghilini
48 days of adventure, 250km of ski touring, 3800m of ascent up Mt. Logan, a first descent down the East Ridge and a 400km river trib back to the sea. Fully unsupported, three adventureres redefine what it means to take a long journey.
Cholitas (Tour Edit)
2019, Spain, 53 minutes Filmmaker: Jaime Murciego, Pablo Iraburu, Arena Comunicacion Audiovisual
Five Indigenous Bolivian women embark on a unique expedition as a symbol of liberation and empowerment. Their goal? The highest peak in the Americas, Aconcagua.
Pathfinger - Life Beyond Fear
2019, Norway, 10 minutes Filmmaker: Dan Lior, Adam Rubin, Raised by Wolves
Follow six slackliners on a mission deep in the Norwegian mountains as they attempt walking a highline elevated in teh vastness between two colossal cliffs, illuminated only by the mystical northern lights.
Ten Thousand Bolts
2020, USA, 18 minutes; Advisory: Coarse Language Filmmaker: Duncan Sullivan, Alex Levin, Ashley Benzwie
A portrait of Toni Arbones, a professional rock climber and route bolter who, over the course of 30 years, has single-handedly turned Siurana, Spain into one of the most popular rock climbing areas in Europe.
K2: The Impossible Descent (Tour Edit)
2020, Austria, 23 minutes; Advisory: Coarse Language Filmmaker: Slawomir Batyra, Michal Zamencki, Slawomir Richert, Tom Fish, Red Bull Media House
K2, the 'Savage Mountain', holds a mythical place in the hearts of climbers around the world - 1 in 4 do not return from it. On July 22, 2018, Polish ski-mountaineer, Andrzej Bargiel makes the 'impossible descent' from its summit.