Sundance College - Edmonton Graduation 2023
Thursday, October 12, 2023 at 1:00 PM MDT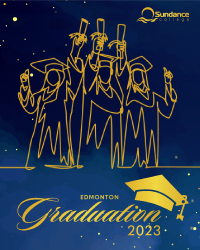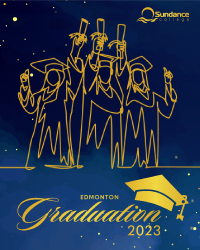 You've selected
Thursday, October 12, 2023 at 1:00 PM MDT
Thursday October 12, 2023
1:00 PM
Tickets starting at $20.00 *convenience fee applied at point-of-sale
Join Us for a Momentous Occasion: Edmonton Graduation Ceremony on October 12, 2023
Step into a world of achievement and celebration as we proudly present the Edmonton Graduation Ceremony, taking place on October 12, 2023. This exclusive event is dedicated to our accomplished graduates from diverse programs including Health, Business, Technology, and Legal studies, as they embark on the next chapter of their journey.
What's Happening
Gather with us to commemorate the remarkable accomplishments of our graduates. With an atmosphere of pride and accomplishment, this event is all about honoring our graduates and their dedication to excellence.
This event is open only to Graduates and their guests.
Program Highlights
Graduate Procession: Witness the grand procession as our graduates make their triumphant entrance, a symbol of their hard work and dedication culminating in this special day.
Valedictorian Address: Be inspired by the valedictorian's speech, filled with reflections on the graduates' journey, words of gratitude, and hopes for the future.
Guest Speaker: Engage with thought-provoking guest speaker who will share their experiences and insights, offering valuable perspectives as our graduates step into the professional world.
Scroll Presentation: The moment everyone has been waiting for - as graduates cross the stage and are congratulated by the President of Sundance College - the culmination of their dedication and perseverance.
And more
Tickets & Information
Graduates: Your entry is our gift to you, as a token of our appreciation for your hard work and commitment.
Guests: Join in the celebration by securing your tickets for $20 each. Be a part of this unforgettable occasion as our graduates' achievements are recognized and celebrated.
Don't miss this opportunity to honor our graduates' remarkable journey. Secure your spot and share in their moment of triumph.
Join us on October 12th, 2023, as we celebrate the culmination of hard work, determination, and the bright future that awaits our graduates.
Venue
The Arden Theatre
5 St. Anne Street
St. Albert AB T8N 3Z9
Performance Notes
Tickets starting at $20.00 *additional convenience fee applied at point-of-sale